Call Us Now: 818-772-7720
About Dr. K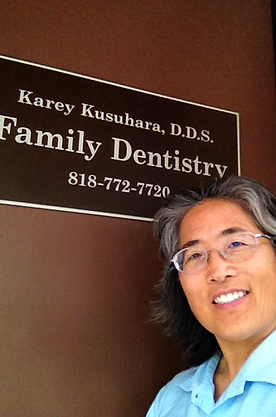 Karey Kusuhara, DDS is a native Southern Californian who grew up in Northridge, California.
She has a Bachelor of Science degree and attended Loma Linda University School of Dentistry. While at Loma Linda, she always planned on returning to serve her community, and her practice is located a short distance from where she grew up.
Dr. Kusuhara is a member of ADA, CDA and SFVDS, and the Academy for Sports Dentistry. Currently she is involved in CSUN (Cal State University Northridge) Sports, providing custom mouth guards for their athletes, and a provider dentist for USOC (United States Olympic Committee). To stay current with dental procedures, equipment and materials, Dr. Kusuhara attends continuing education conferences at least three times a year.
Shortly after graduating from undergraduate college, Dr. Kusuhara started volunteering with an adaptive snowsport program, Disabled Sports USA based out of Orange County. For several seasons she has been a volunteer instructor with this program and currently works with Disabled Sports Eastern Sierra based in Mammoth, and the PSIA (Professional Ski Instructors of America) as a clinician and examiner. She is a certified adaptive, alpine, and snowboard instructor.
​
Dr. Kusuhara also enjoys art, almost anything Disney, and being a handywoman.
​